You must allow me...
Quick! Who said that? Not sure? How about if I finish the phrase? You must allow me to tell you...
I have this cup on my kitchen shelf, where I can admire it every day. You can find it on Etsy at http://www.etsy.com/shop/Brookish?ref=top_trail


So have you guessed the second couple in my week of romance? Here's a little hint...the guy looks an awful lot like Colin Firth....
This is NOT Mr. Darcy, although if you are inspired to buy this t-shirt for your beloved, AND he agrees to wear it, you can always pretend! (This is not my husband, by the way, but the model on the Etsy site I mentioned above.)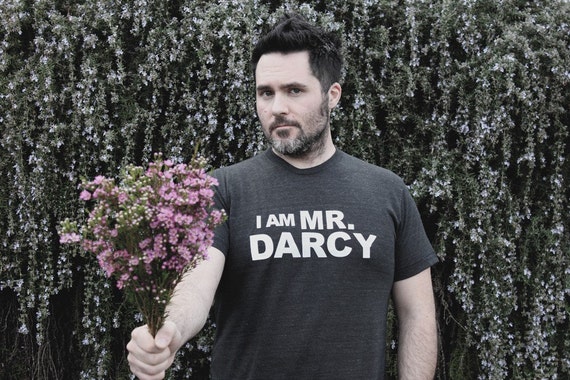 THIS IS MR. DARCY. I know there are many other film versions of Pride and Prejudice, but in my opinion Colin Firth is the ultimate Fitzwilliam Darcy.
And in case you are looking for the perfect Valentine for your own beloved, here are a few cards to spice things up!
http://www.luulla.com/product/11112/you-must-allow-me-to-tell-you-how-ardently-i-admire-and-love-you-card
http://mulberrymuses.blogspot.com/2011/01/valentines-day.html
I think Lizzie, if she were a poet instead of a new bride, would write something like this about her beloved Darcy. We'll have to thank another Elizabeth (Barrett Browning) for this beautiful love poem:
How Do I Love Thee?
How do I love thee? Let me count the ways.
I love thee to the depth and breadth and height
My soul can reach, when feeling out of sight
For the ends of Being and ideal Grace.
I love thee to the level of every day's
Most quiet need, by sun and candlelight.
I love thee freely, as men strive for Right;
I love thee purely, as they turn from Praise.
I love with a passion put to use
In my old griefs, and with my childhood's faith.
I love thee with a love I seemed to lose
With my lost saints, -- I love thee with the breath,
Smiles, tears, of all my life! -- and, if God choose,
I shall but love thee better after death.
Don't you just love happy endings?