A bit of spring magic happened today, in spite of the mounds of snow and blustery winds. I opened my front door, stepped outside and there it was...hanging in the air. First the distinctive call of the cardinal, perched in my neighbor's tree and then came the call I always associate with my mother.. her "yoo hoo" call as she gathered us all in at night from outdoor play. The black capped chickadee was singing her heart out, and my heart answered with a glad song of its own. Maybe spring hasn't been cancelled after all.
I was lucky enough to come across a new poet the other day, Luci Shaw, who has published several poetry books that speak to her faith and her love of nature. I am happy to share two of her poems with you today, and if you like them, you can find more of her works at her website www.lucishaw.com.
What to sing
and after being still awhile
the heart of my listening
telling me, quite clearly,
Consider me,
what I might mean, and
how you might
sing me.
(I am not telling you the word,
She sang, It's simple.
Just open your throat.
The air will carry it.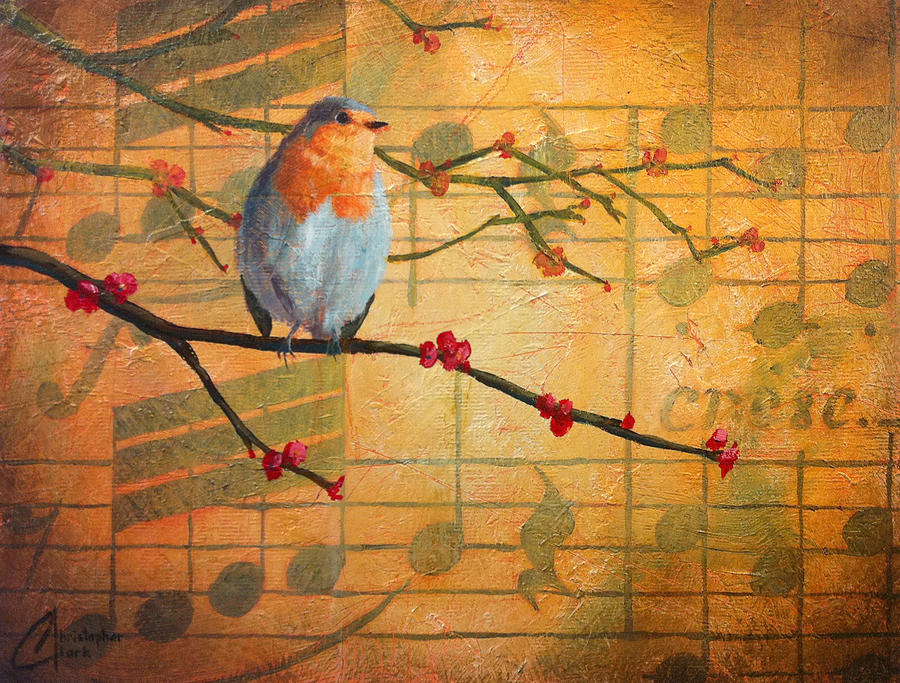 painting credit
And although I have yet to see one, I heard a robin singing the other day, so here is another lovely poem by Ms. Shaw about the robin's song--a shower for the heart and a true promise of spring.
Robin in the late afternoon
The window's open, so I hear
each crystal note. Even with eyes closed,
I know a robin when I hear one,
telling the air between us how happy he is
about the soft rain and its summons
to the worms in the dark underground.
A pause. And then he sings again
from a more distant branch, but just as clear.
Or is it his mate? No matter, it's a robin song,
a shower for the heart. I am no worm.
I do not tunnel under sod. But I am called,
beckoned into fresh hopefulness.
Bless God for birds, their vowels
pure and persuasive as spring rain.
Have a wonderful day!