And...a dusting of snow outside! Does it ever end? Even the most die-hard winter enthusiasts (and believe me, Wisconsin has a LOT of them!) are ready for winter to disappear and some warm sunshine to grace our days and lift our spirits. I would say is that too much to ask for, but I think I know Mother Nature's answer and I don't want to push any of her buttons. I've seen some pretty harsh April blizzards in my time!
Today I'm going to introduce you to a few art works from a special exhibition at the Milwaukee Art Museum: Uncommon Folk - Traditions in American Art. Some of it was whimsical, some of interesting, other pieces I found rather creepy or disturbing, but all of them revealed a small glimpse back at America's history and how "regular folk" expressed their creativity.
The exhibit's program probably says it best:
The unprecedented selection of paintings, drawings, sculptures, photographs, textiles, and furniture featured in this exhibition offers unexpected beauty, power, whimsy, and wonder. The authentically American artistic expression identified in the work of folk and self-taught artists in the late nineteenth and early twentieth centuries gave American art its own voice separate from the classical European style that dominated the art world at the time. These artists, operating outside the art establishment, created work that was influenced by their communities and cultural traditions, rather than by art historical movements.
I'll start with the downright creepy...can anyone say "The Bad Seed"?? I definitely wouldn't want this portrait hanging in my home!
Young Girl with a Cat, Drossos P. Skyllas (1955)
Nor would I want this hyena greeting me at my front door!
The exhibit was separated by categories such as Toys, Advertising, Religion, Found Objects, Patriotism and Decoys and several items were displayed within each category. The Possum Trot puppet show theater is one of the first things you see when you enter the exhibit.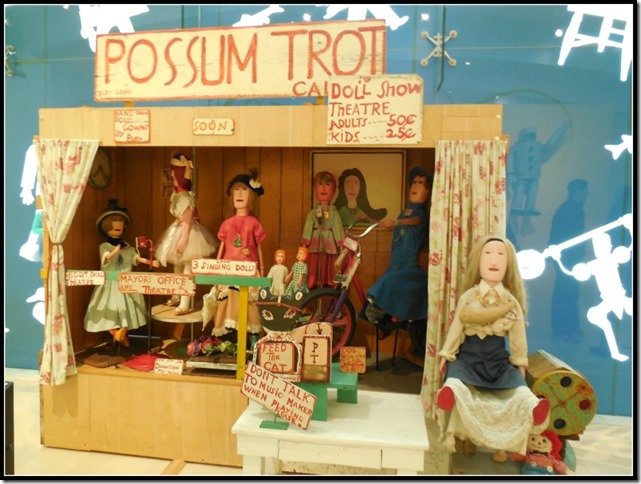 This schoolhouse is in the "Found Objects" collection and reminded me a little of my grandmother, who taught in a one room schoolhouse in Indiana. Made from bottle caps, I'm guessing someone had to drink a lot of Milwaukee beer to make this!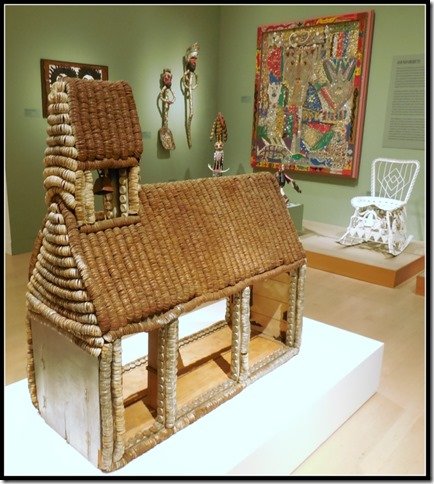 I've been lucky enough to visit several American folk art exhibits, and they would not be complete without quilts. This exhibit displayed both the exquisite side with an album style "fancy" quilt as well as some of the functional quilts made by the Gee's Bend Quilters.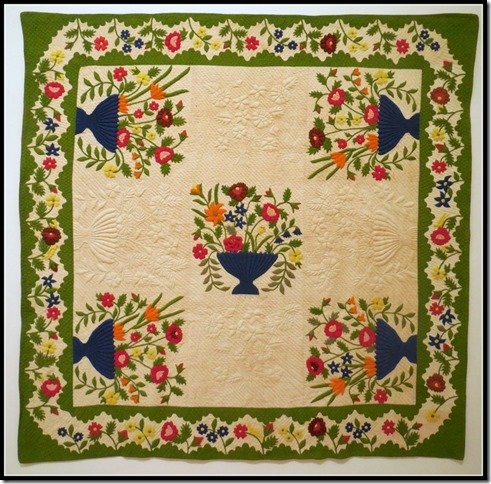 I loved this Shaker sewing cabinet!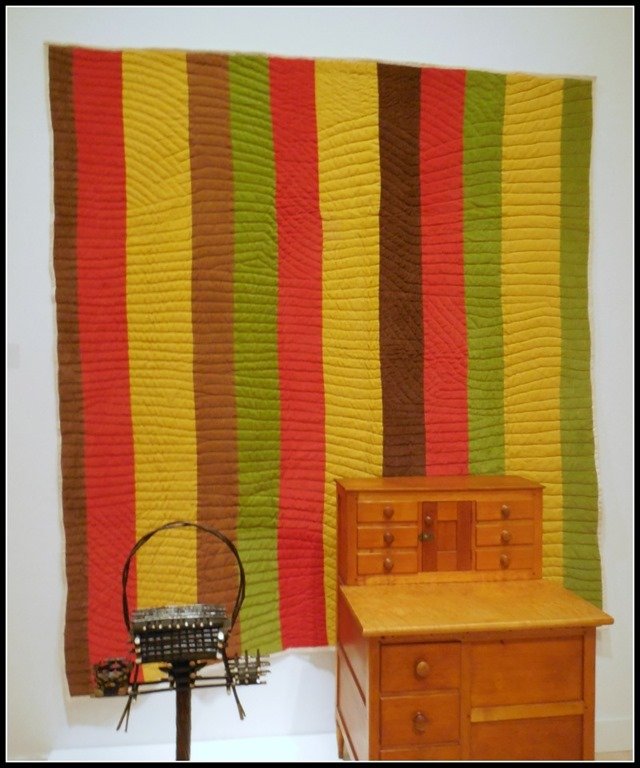 Here is the perfect poem for this American folk art exhibit by Robert Martin, who must have seen one or two yard sculptures in his time!
Folk art poem