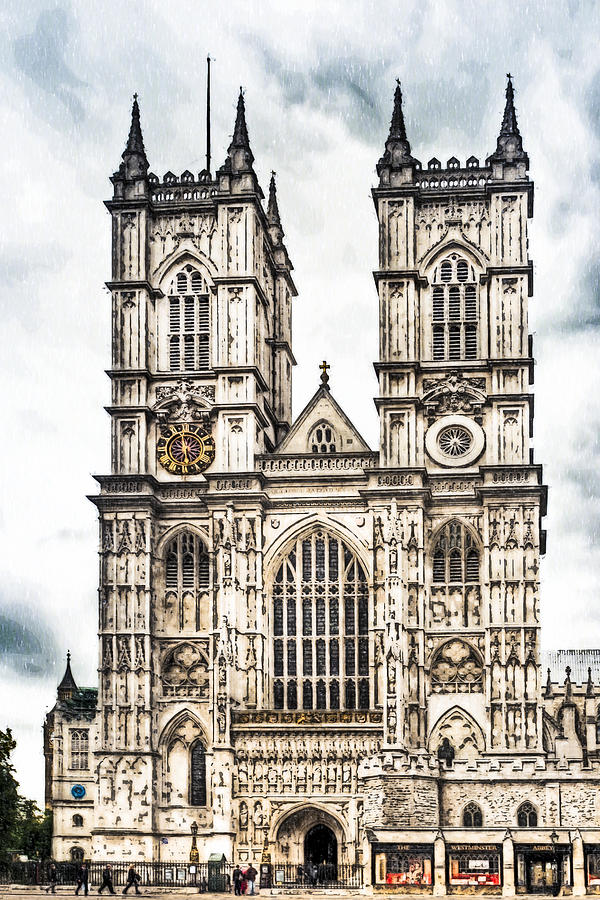 Westminster Abbey
http://fineartamerica.com/featured/graphic-westminster-abbey-mark-e-tisdale.html
My mind was still on Downton Abbey yesterday, thinking about my trips to England and how much I love London. After work I was flipping through television channels (confession time--I did
nothing at all
productive yesterday evening!!) and landed on
The Da Vinci Code
, starring Tom Hanks. I wasn't a huge fan of the movie, as it was really difficult to translate this particular book into a movie and keep all the action and interesting history intact. So I was only paying partial attention to the television until the characters landed in London, which made me sit up and take note. I get such a thrill from watching movies set in London and identifying a familiar landmark that I have visited. And what landmark is more inspiring and unforgettable than Westminster Abbey?
I will never forget the first time I walked through the doors, arm in arm with my mother. We were so excited to visit this Gothic church, and my mother was a couple of steps behind me when I entered the nave and gasped at the sheer enormity and awe inspiring presence of the place. My mother whispered 'now now' and then stepped inside, where she looked around and her knees buckled. (Sorry Mom, but they did!). But don't take my word for it....here is a description from
The Da Vinci Code
(book, not movie) that echoes how Mother and I felt that morning:
Langdon's and Sophie's eyes, like those of almost every visitor, shifted immediately skyward, where the abbey's great abyss seemed to explode overhead. Grey stone columns ascended like redwoods into the shadows, arching gracefully over dizzying expanses, and then shooting back down to the stone floor. Before them, the wide alley of the north transept stretched out like a deep canyon, flanked by sheer cliffs of stained glass. On sunny days, the abbey floor was a prismatic patchwork of light. Today, the rain and darkness gave this massive hollow a wraithlike aura…more like that of the crypt it truly was.
The nave, with the Tomb of the Unknown Soldier surrounded in red poppies
Making our way to the famed Poets Corner (the Southern Transept), we paid homage to the writers and poets that have touched our hearts, excited our passions and stirred our emotions. Some are interred here, and others just have memorials. Tennyson, Browning, Dickens, Kipling and Hardy are laid to rest in the Abbey. Those with memorials include Milton, Wordsworth, Keats, Shelley, Burns, Blake, Sir Walter Scott, Jane Austen, Charlotte, Emily and Anne Bronte. The poet I featured in my blog yesterday, Sir John Betjeman, has a memorial in the Abbey, although I wasn't familiar with his work at the time and sadly passed by his memorial without a second glance.
You can see the full list of graves and memorials at
http://www.westminster-abbey.org/visit-us/highlights/poets-corner.
Here's a beautiful poem about The Poets' Corner, by American poet Thomas Bailey Aldrich (who is buried in Cambridge, MA). I hope you enjoy it and have a lovely day! All these English memories are making me hungry for a proper cup of tea and a warm scone!
In Westminster Abbey
by Thomas Bailey Aldrich
"The Southern Transept, hardly known by any other name but Poets' Corner"
Tread softly here; the sacredest of tombs
Are those that hold your poets. Kings and queens
Are facile accidents of Time and Chance.
Chance sets them on the heights, they climb not there!
But he who from the darkling mass of men
Is on the wing of heavenly thought upborne
To finer ether, and becomes a voice
For all the voiceless, God annointed him:
His name shall be a star, his grave a shrine.
Tread softly here, in silent reverence tread.
Beneath those marble cenotaphs and urns
Lies richer dust than ever nature hid
Packed in the mountain's adamantine heart,
Or slyly wrapt in unsuspected sand--
The dross men toil for, and oft stain the soul.
How vain and all ignoble seems that greed
To him who stands in this dim claustral air
With these most sacred ashes at his feet!
This dust was Chaucer, Spenser, Dryden this--
The spark that once illumed it lingers still.
O ever-hallowed spot of English earth!
If the unleashed and unhappy spirit of man
Have option to visit our dull globe,
What august Shades at midnight here convene
In the miraculous sessions of the moon,
When the great pulse of London faintly throbs,
And one by one the stars in heaven pale!