It is a truth universally acknowledged....
that all Downton Abbey devotees have a LOT to talk about over the water cooler at work today, but since my mother may not have seen it last night I am being very, very careful to not say anything about last night's episode! So instead I am today celebrating the 200th anniversary of one of the greatest novels in history (and one of my personal favorites),
Pride and Prejudice
. First published by Thomas Egerton in 1813, it was Jane Austen's second novel and her favorite. She described it as her "own darling child".
If we were in Bath, England, we could visit the Jane Austen Centre (I didn't misspell Centre, I'm just being pretentious and pretending I'm British today) today and take part in the International Readathon it is hosting today. Dozens of actors, authors and Austen experts plan to read the book aloud in its entirety during a 12-hour period. Other celebrations are planned in Bath, including the Jane Austen Festival Regency Costumed Summer Ball in June, and the Bath Jane Austen Festival, held Sept. 13-21, which will include a Mr. Darcy lookalike contest, a masked ball and workshops on how to perfect the Regency look.
Or you could visit Austen's home in Chawton, which has been transformed into the Jane Austen's House Museum, or head to Derbyshire, where many of the Austen movies were filmed in the region's grand estates and gardens.
Chatsworth House, used as Pemberley Estate, in the 1995 BBC mini-series
Everyone knows the opening line of
Pride and Prejudice
by heart (alright, perhaps not
everyone
, but a lot of people do!). The novel has sold over 20 million copies worldwide, and has engendered numerous film, stage and television adaptations. It has even spawned a zombie spin-off (and no, I have absolutely no desire to read that version!) And certainly, the BBC's 1995 mini-series turned Colin Firth into an international phenomenon (read 'heartthrob').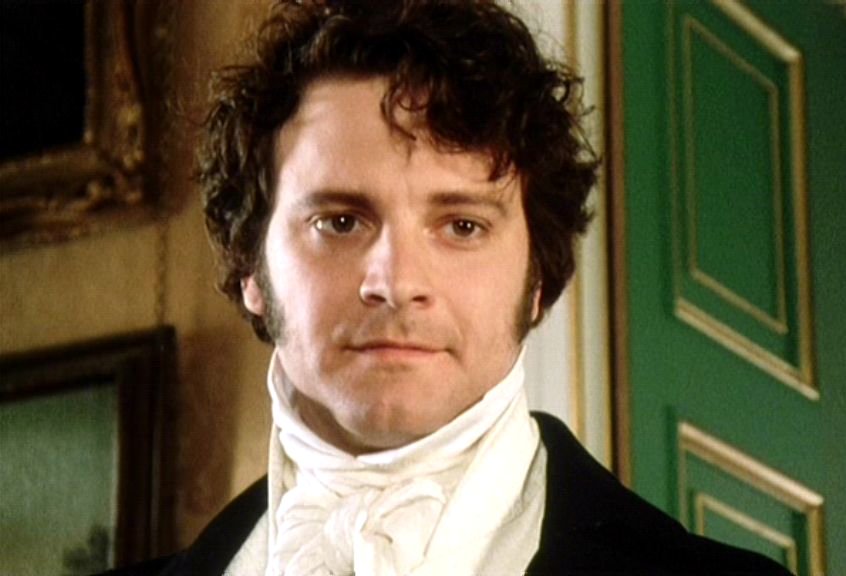 Add caption
So today let's celebrate Jane Austen and her gift to the world: Elizabeth Bennett and Mr. Darcy, as well as a wonderful cast of minor characters that lend so much to the novel. (Remember my earlier post about my Mr. Collins/potato print in my dining room?!). And here's a little ditty by W.H. Auden, from a 1937 poem titled Letter to Lord Byron", in which he reflects on Jane Austen:
You could not shock her more than she shocks me,
Beside her Joyce seems innocent as grass.
It makes me most uncomfortable to see
An English spinster of the middle class
Describe the amorous effects of 'brass',
Reveal so frankly and with such sobriety
The economic basis of society.