Hmmm....aren't those lyrics from the old movie
Love Story
? I was pondering if I should finish up my stories from yesterday's trip to Blue Mounds State Park, or if I should start back at the beginning with my mother's visit and work my way forward, and the old song popped into my head! So I literally flipped a coin, and today's post is all about my mother. What better subject could there possibly be?
She was quite the globe trotter in September...first to Indiana to visit all her relatives there, then over to Ohio to enjoy some time with my brother and his family, and then she finally arrived at my house for a lovely week's visit. Sadly, I didn't have enough vacation days saved that I could spend my days with her, but my husband and one of my sons had more flexible schedules so I don't think she got too bored. And honestly, who could possibly get bored with my sweet little Willow to keep you company?!
Most of my time with Mother was spent chatting in the evening, talking about our favorite authors and television shows, swapping lists of books to read or reminiscing about family vacations or funny moments from chilhood (both hers and mine!). But I did have one day of vacation time, and we used it to make a second trip to Galena, a place Mother had wanted to visit for many years.
First stop...Belvidere Mansion! Belvidere is a lovely home that, according to an Illinois tourist website, is called "the Downton Abbey" of Galena. Hmm...not sure I'd go that far!
Need I say more on that topic?!
But it is, no doubt, a lovely pre-Civil War home, built by J. Russell Jones in 1857. Jones was a friend and supporter of President Grant, who also had a home in Galena. Its 22 rooms are filled with lovely antiques, and some...oddities. I can't say I ever expected to find Liberace memorabilia nestled in among Civil War furniture. It was unusual, to say the least!
Nor was I particularly impressed with the non-period Tiffany grape chandelier, and the many grape light fixtures in an otherwise elegant dining room (if you ignore the Liberace Nubian statues and gold encrusted sheet music cabinet...) The combination rather jarred the sensibility of the room.
Hmm...and did I mention that the library had (are you ready for this?)...the infamous green velvet curtains from Gone with the Wind. Okay, I get that the house was lived in during the Civil War, but we are talking Illinois, not Georgia!
Evidently the last owner of Belvedere was into movie sets and Las Vegas glitz. It was a little bit jarring. Oh, and did I mention the velvet green curtain adorned Barbie Dolls displayed on the horsehair library settee?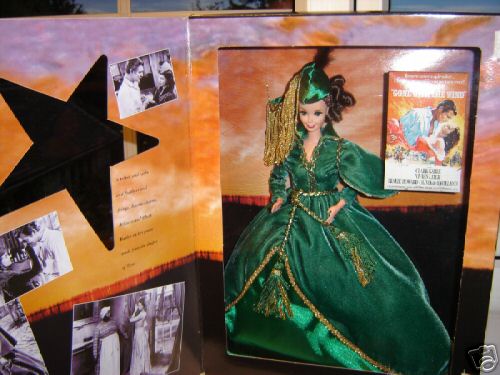 But in spite of the home's, shall we kindly say idiosyncracies?, we did enjoy the tour. One thing Mother, my husband and I all learned was what a "coffin corner" is. Evidently ornate coffins were usually kept in the attic and brought out when necessary to display a body in the home. The coffin stayed in the house, though, and a pine box was used for burial. But bringing long coffins down winding staircases could prove problematical, and in order to fit around corners a niche was usually carved into the stairway to accomodate the coffin angles. When not needed for coffin-fitting duty, a lovely vase could be displayed instead.
Maybe I should have saved that story for Halloween?
The exterior of the house was quite pretty, although the garden was surprisingly small. I loved the small boxwood maze, though.
The owners evidently liked outdoor statuary:
But here is my favorite memory from Belvedere House--my mom and I enjoying a beautiful fall day together. Isn't she beautiful?!
And even if the lyrics were intended for a romantic love story, I think they could also depict the timeless love of mother and daughter:
How long does it last
Can love be measured by the hours in a day
I have no answers now but this much I can say
I know I'll need her till the stars all burn away
And she'll be there.
Have a terrific Tuesday, and I'll be back tomorrow for a tour of Grant's home!