the horse is peeking out of a second floor window of an old brick building on Main Street, Galena. Then he is just downright startling! Your guess is as good as mine...
Besides an odd collection of curiosities at Belvedere Mansion, visiting Grant's home under the stern visage of Mrs. Grant and doing a little horse/window shopping, what else did we find to do in Galena with my mother?
How about lunch at the grand old Desoto House Hotel where Abraham Lincoln always enjoyed his stays? The Desoto is Illinois' oldest operating hotel, and has seen a number of dignitaries pass through its front door, including Abraham Lincoln, Stephen A. Douglas, William Jennings Bryan, Melville, Emerson and Thoreau. Built in 1855, it was the presidential campaign headquarters for Ulysses S. Grant. See the bunting draped balcony? Candidate Abe Lincoln spoke from there during his Presidential campaign.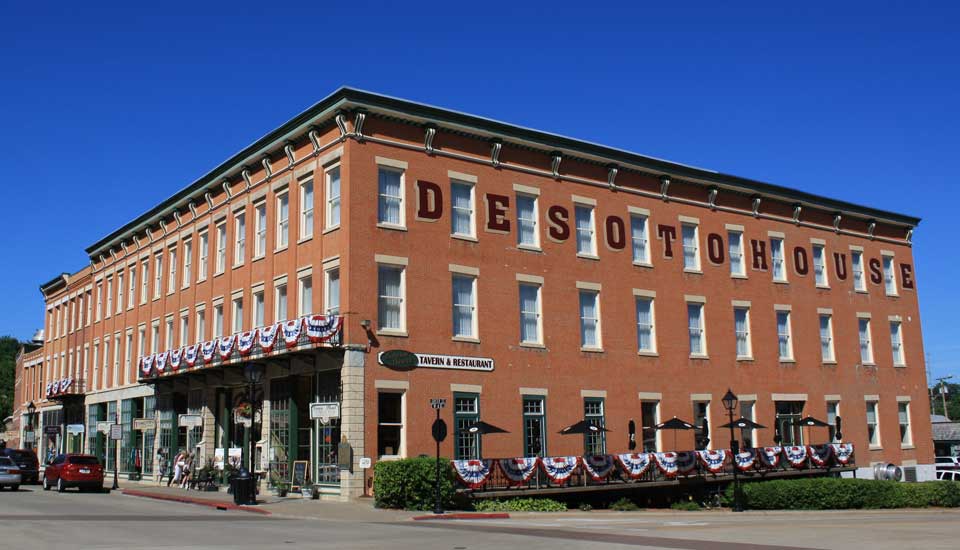 Although rumors of Desoto hauntings abound, the dining room was prosaic, offering nothing more than pretty tables and a nice menu. After all our walking, the chairs were our favorite part! After lunch we peeked in the hotel lobby. If you squinted your eyes just right you could almost see a hoop skirted lady entering the lobby for afternoon tea....
We took advantage of the warm sunshine to pay a visit to Grant's Park, where the newly restored bandstand looked beautiful without all the scaffolding that surrounded it on our last visit.
And we ended our visit by admiring some of the lovely homes nestled into the hillside. Goodbye until next time, Galena! You've captured my heart and my imagination...can you imagine how lovely this city must look during the holidays? I think a third trip will be necessary, don't you?
These Lennon/McCartney lyrics came to mind as a proper finish to today's post. Tomorrow we'll head north so that Mother could see my son's college play!
The long and winding road that leads to your door
I've seen that road before it always leads me here
Leads me to your door