Beautiful, glorious Scotland, has spoilt me for every other country!


Mary Todd Lincoln
A few years ago I fell in love with Scotland. I thought I knew a decent amount about the country--a little history, a little geography, some poetry and fiction (I knew a few of Rabbie Burns' poems by heart, and had many vicarious adventures through the years with
Kidnapped
,
Treasure Island
, and
Ivanhoe,
and later with books by M.C. Beaton and Ian Rankin).
The Bonnie Banks of Loch Lomond
was one of the folk songs I crooned my little ones to sleep with (although I must confess at the time I sang it I didn't realize it was really a sad song about death--the 'low road' is the passage to the underworld), and I grew up listening to my mother's beautiful recording of
Flow Gently, Sweet Afton
. I had watched Braveheart and Rob Roy a kazillion times with my husband--surely that had to make me something of an expert! And once I discovered Diana Gabaldon's
Outlander
series, about an English nurse that is sent back in time to 18th century Jacobite Scotland through mysterious standing stones, I was hooked--I had to go see for myself what this land of poets and warriors was really like.
So I packed my raincoat, umbrella, warm coat, gloves, hat, scarf and sensible walking shoes (for a May visit!) and my husband packed his golf clubs, and off we set on a beautiful and unforgettable trip to the land of mountains and lochs, a land of castles, sea monsters, highland clans, and political intrigue. I started out loving the Scotland of my imagination, and ended up loving the real Scotland oh so much more than I could have ever dreamt. While in Edinburgh we visited the National Art Galleries, where I happily discovered the beautiful paintings of Joseph Farquharson, Laird of Finzean in Aberdeenshire (doesn't that just roll off the tongue?!). Best known for his evocative winter landscapes, his
Shortening Winter's Day
literally took my breath away. The snow laden boughs, the last gleam of the setting sun and the oncoming shadows were so perfect I felt I could almost step into the picture. Of course I had to buy a print, that now hangs in a special place of honor in my home, and every day I look at it and wish I could step back in to the glen and feel the brush of snow on my cheeks and breathe the clean, frosty air of Scotland again.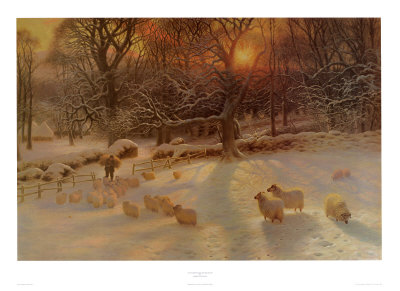 With the time change this weekend, night will start drawing nigh earlier and earlier, so I thought today was the perfect time to share this lovely painting with you. And who knew? In researching this painting, I discovered that my old friend Robert Burns had first used the phrase the short'ning winter day in the section November Evening, taken from his poem "The Cotter's Saturday Night." I hope you enjoy both the art and the poem, two exemplary offerings from the land of lochs and legends.
November Evening
from "The Cotter's Saturday Night"
by Robert Burns
November chill blaws loud wi' angry sugh,
The short'ning winter day is near a close;
The miry beasts retreating frae the pleugh,
The black'ning trains o' craws to their repose;
The toil-worn cotter frae his labor goes,
This night his weekly moil is at an end,
collects his spades, his mattocks, and his hoes,
Hoping the morn in ease and rest to spend.
And weary, oe'r the moor, his course does hameward bend.
At length his lonely cot appears in view,
Beneath the shelter of an aged tree;
Th' expectant wee-things, toddlin, stacher through
to meet their dad, wi' flicterin noise an' glee.
His wee bit ingle, blinkin bonilie,
His clean hearth-stane, his thrifty wifie's smile,
The lisping infant prattling on his knee,
Does a' his weary kiaugh and care beguile,
An' makes him quite forget his labor an' his toil.
I hope your week gets off to a bonnie start! And oh, by the way...all those suggested winter clothes I packed for my trip? Edinburgh experienced a veritable heat wave of 60 degrees while we were there--everyone walked around in shorts, t-shirts and ate ice cream in the parks!