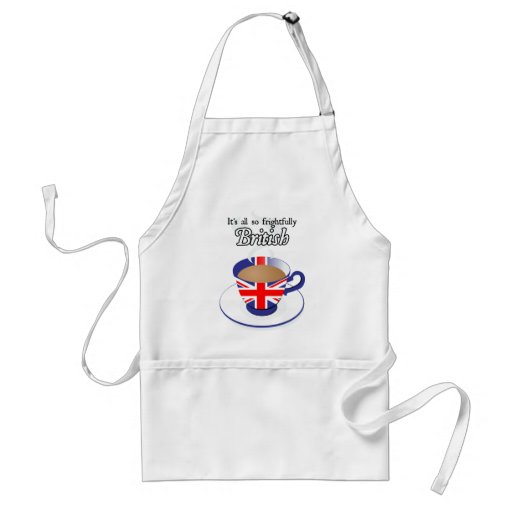 It's a two for one day! I'm sharing favorite cookbooks
and
aprons that are United Kingdom themed. I have British and Irish tea in my tea cupboard, British tea cups and tea pots displayed in my kitchen, and British cookbooks galore:

Shall I pour a cup of tea?
Not to mention my years of collecting the special Britain issues of Victoria magazine, filled with amazing recipes that have never let me down in the kitchen. Put on Paul McCartney's Creation and Chaos in the Backyard, and sing along to English Tea while cooking up a wee bite to eat!
Would you care to sit with me
For a cup of English tea
Very twee
Very me
Any sunny morning
What a pleasure it would be
Chatting so delightfully
Nanny bakes
Fairy cakes
Every Sunday morning
Miles of miles of English garden
Stretching past the willow tree
Lines of hollyhocks and roses
Listen most attentively
As a rule the church bells chime
When it's almost supper time
Nanny bakes
Fairy cakes
On a Sunday morning
So of course if I am in my kitchen mixing up scones or Irish soda bread or rolling out shortbread cookies, I need an appropriate apron! And while it may not look as British as you are expecting to see, I love this cheery apron. The floral print at the top is so homey and friendly.
But it is the print at the bottom that stirs my imagination. Every time I look at it I am transported back to Westminster Abbey:
or Bath Abbey:
I was incredibly blessed to be able to visit both sites with my husband and mother, truly a dream come true. I am as thankful for these memories as Robert Burns was when he penned his Selkirk Grace. Let us all thankit the Lord, indeed!
Sae let the Lord be thankit!
Some hae meat and canna eat,
And some would eat that want it;
But we hae meat, and we can eat,
Sae let the Lord be thankit.
Happy Thursday!