Cookbooks are certainly one of my favorite kitchen items, but if you peek into my kitchen cupboard drawers you'll find another favorite. No, I'm not talking about my junk drawers--I'm talking about my apron drawers! Who remembers aprons? If so, do you still wear one when you cook? I
love
aprons, and am very seldom in the kitchen without one tied around my waist. Aprons went out of fashion for awhile in the 80's-90's, but seem to be staging a strong comeback, according to the latest craft magazines and specialty store displays. There is even a magazine devoted strictly to apron patterns, and gosh darn it, those patterns are cute!!
After WWII, people were eager to put the war behind them and settle into domestic life. Early family television shows had mothers wearing aprons, and it became an unofficial symbol of family, mother, and apple pie ideals. Aprons signified a cozy kitchen, and enough food for everyone. This uniform of the American housewife could be plain and practical, fun themed and kitschy, or sheer and ruffled for dress or hostess duties. You can see the different styles on these famous mothers (and aunt) below:
Mass produced aprons featured kitchen themes, the fabric printed with pot and pans; spoons; toasters; and other kitchen items. Homemade aprons were a popular use of fabric remnants and made welcome gifts or sale items at church bazaars. Homemade aprons could be decorated with ruffles, contrasting fabrics, rick-rack, trim, or handkerchief pockets. And now, after going out of fashion, they are BACK with styles Mrs. Walton or Aunt Bea would have never dreamt of. Some of them are so pretty (or white?!) that I can't imagine actually cooking in them, but wouldn't they be fun to have for special occasions?
Who wouldn't feel extra special wearing something like this in the kitchen?
Or this one?
And how fun is this cherry apron--it makes me smile just looking at it!
Creative women are even designing "aprons in a jar"!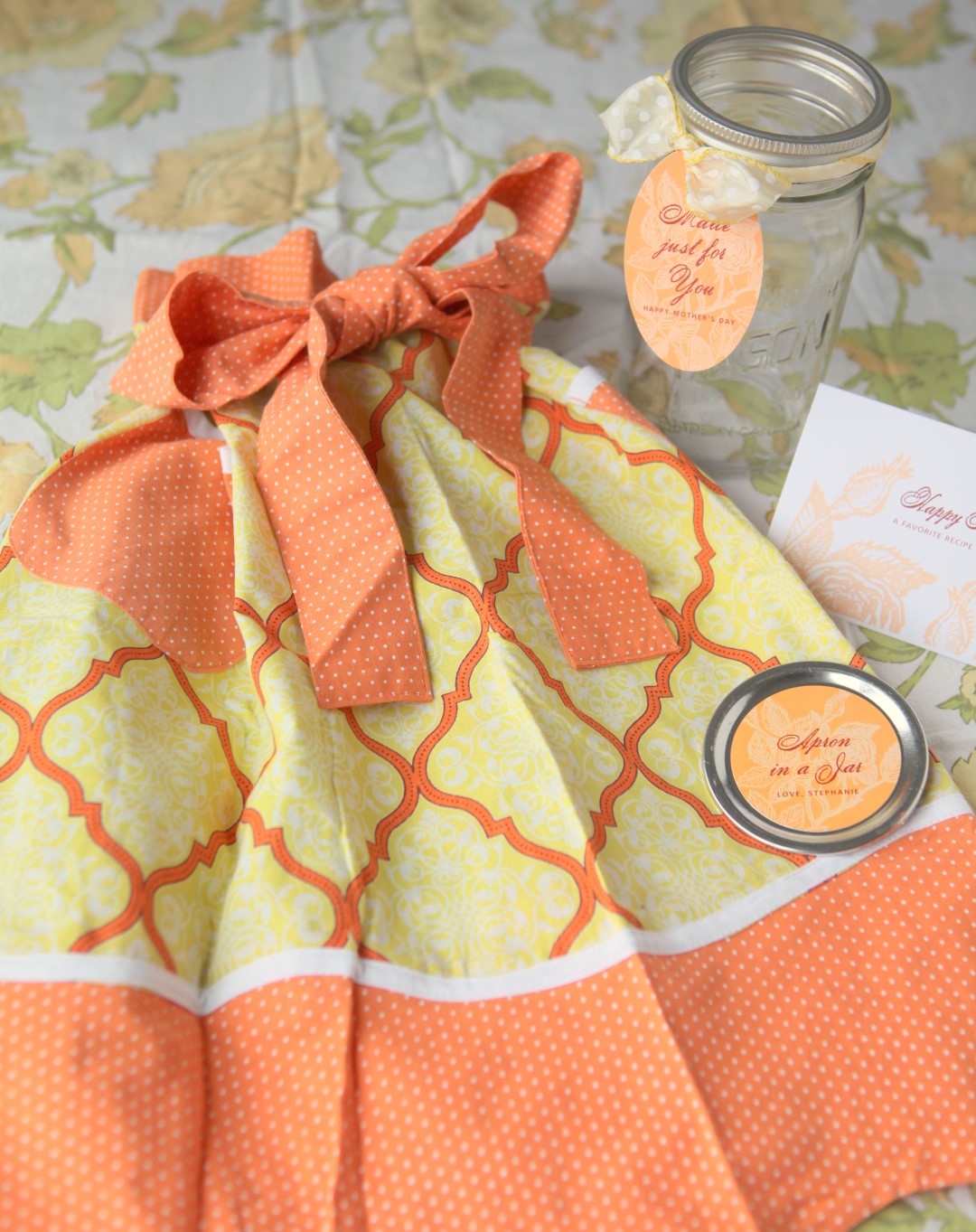 Which of course could make a really cute Christmas gift for your favorite baker!
Christmas apron in a jar with cookie recipe gift tag




Tomorrow we'll take a peek inside my "apron drawer" and see what I aprons I particularly cherish. Until then, here is a sweet reflection to start our week on a homey note.



"GRANDMOTHER'S APRON"
THE PRINCIPAL USE OF GRANDMA'S APRON WAS TO PROTECT THE DRESS
UNDERNEATH, BUT ALONG WITH THAT, IT SERVED AS A POTHOLDER FOR
REMOVING HOT PANS FROM THE OVEN.
IT WAS WONDERFUL FOR DRYING CHILDREN'S TEARS, AND ON OCCASION
WAS EVEN USED FOR CLEANING OUT DIRTY EARS.
FROM THE CHICKEN COOP, THE APRON WAS USED FOR CARRYING EGGS,
FUSSY CHICKS, AND SOMETIMES HALF-HATCHED EGGS TO BE FINISHED
IN THE WARMING OVEN.
WHEN COMPANY CAME, THOSE APRONS WERE IDEAL HIDING PLACES FOR
SHY KIDS.
AND WHEN THE WEATHER WA COLD, GRANDMA WRAPPED IT AROUND HER
ARMS.
THOSE BIG OLD APRONS WIPED MANY A PERSPIRING BROW, BENT OVER
THE HOT WOOD-STOVE.
CHIPS AND KINDLING WOOD WERE BROUGHT INTO THE KITCHEN IN THAT
APRON.
FROM THE GARDEN, IT CARRIED ALL SORTS OF VEGETABLES. AFTER THE
PEAS HAD BEEN SHELLED, IT CARRIED OUT THE HULLS.
IN THE FALL, THE APRON WAS USED TO BRING IN APPLES THAT HAD
FALLEN FROM THE TREES.
WHEN UNEXPECTED COMPANY DROVE UP THE ROAD, IT WAS SURPRISING
HOW MUCH FURNITURE THAT OLD APRON COULD DUST IN A MATTER OF
SECONDS.
WHEN DINNER WAS READY, GRANDMA WALKED OUT ONTO THE PORCH,
WAVED HER APRON, AND THE MEN KNEW IT WAS TIE TO COME IN FROM
THE FIELDS TO DINNER.
IT WILL BE A LONG TIME BEFORE SOMEONE INVENTS SOMETHING THAT
WILL REPLACE THAT 'OLD-TIME APRON' THAT SERVED SO MANY WORTH-
WHILE PURPOSES.
REMEMBER:
GRANDMA USED TO SET HER HOT BAKED APPLE PIES ON THE WINDOW
SILL TO COOL.
HER GRANDDAUGHTERS SET THEIRS ON THE WINDOW SILL TO THAW.
THEY WOULD GO CRAZY NOW TRYING TO FIGURE OUT HOW MANY GERMS
WERE ON THAT APRON.
I DON'T THINK I EVER CAUGHT ANYTHING FROM AN APRON---
EXCEPT LOVE.