Happy Tuesday! I'm trying to be "perky" this morning, but I've been up since 4:30 (unable to sleep), the wind chill is ten degrees, and there is a light dusting of snow on my front lawn. Yikes.
Let's escape reality for just a few minutes before heading to work and pretend we're rich and famous...
Welcome to The Breakers!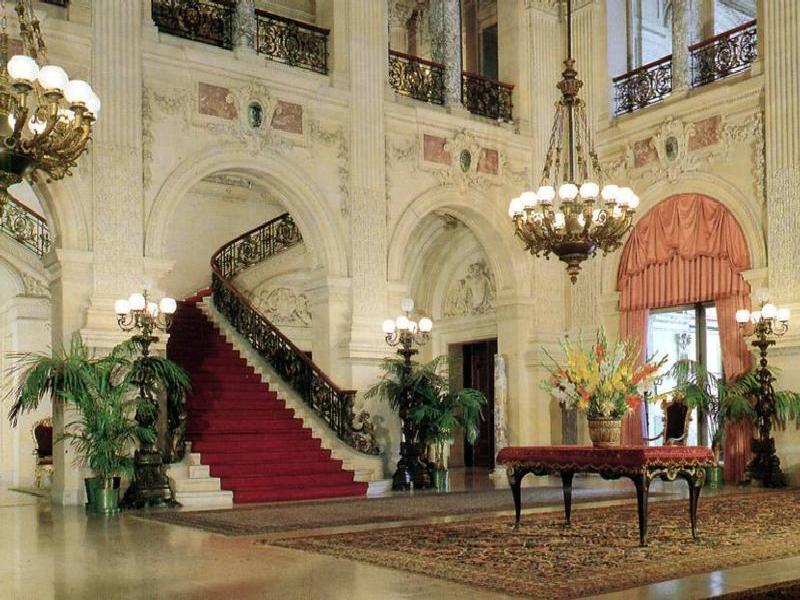 The Grand Hall.
Rumor has it the children used to slide down the steps on trays and ride their tricycles around the foyer.
The Breakers was built as the
Newport summer
home of Cornelius Vanderbilt II, a member of the wealthy United States
Vanderbilt family
. Designed by renowned architect
Richard Morris Hunt
and the 70-room mansion has approximately 65,000 sq. ft. of living space. The home was constructed between 1893 and 1895 at a cost of more than $12 million (approximately $260 million in today's dollars adjusted for inflation). The family
employed over 40 staff and entire families lived in the 4th floor servants quarters. Although the home has been sold to a preservation trust, the remaining family still loves on the 4th floor in the remodeled servants area. Do you think they take their trays and slide down the grand stairway at night for old times' sake?!
I thought it might be fun to do a little side by side comparison--my cottage experiences vs. the Vanderbilts. Interior photographs are not allowed in the mansion, so I apologize for the different degrees of quality with the pictures below, which I had to gather from the internet.
Want to guess which bedroom was mine?
Where would you prefer to have your morning coffee?
At the end of the day where would you like to put your feet up and enjoy the sunset?
No "cottage" kitchens could possibly compare with The Breakers kitchen! Several great chefs got their culinary start at this home, famed for its hospitality and lavish dinners.
But the kitchen did summon up some other memories...whose kitchen is this?
hint...
or this one (hint...think copper pots)
For the most part, I think I would prefer my vacation cottages and my home over such a grand place where I would never feel comfortable relaxing in sweat pants and scruffy slippers. My small library gives me much pleasure as I browse through the titles and pick out a book to match my need.
But I just might be enticed to stay awhile in this library, even if it did mean discarding the sweatpants in favor of something a little more presentable!
But even though I'd love to start a fire in that enormous fireplace and drape myself on one of the fainting couches with one of the special leather bound books, I need instead to find my way to my coffee pot, shed my comfy robe and get ready for work. But the nice thing about memories is I can always find my way back to The Breakers whenever I need a moment of escape. I can close my eyes and create my own memory pictures, as Lucy Maude Montgomery describes in her poem below.
Memory Pictures
A wide-spring meadow in a rosy dawn
Bedropt with virgin buds; an orient sky
Fleeced with a dappled cloud but half withdrawn;
A mad wind blowing by,
O'er slopes of rippling grass and glens apart;
A brackened path to a wild-woodland place
A limpid pool with a fair, laughing face
Mirrored within its heart.
An ancient garden brimmed with summer sun
Upon a still and slumberous afternoon;
Old walks and pleasances with shadows spun
Where honeyed odors swoon;
A velvet turf with blossoms garlanded;
A hedge of Mary-lilies white and tall;
And, shining out against a lichened wall,
A stately-golden head.
An autumn hilltop in the sunset hue,
Pine boughs uptossed against the crystal west,
And, girdled with the twilight dim and blue,
A valley peace-possessed;
A high-sprung heaven stained with colors rare,
A sheen of moonrise on the sea afar,
And, bright and soft as any glimmering star,
Eyes holy as a prayer.