I simply would not be doing justice to the topic of hats if I didn't mention how much I love Sunday go-to-meeting church hats. When I taught school in South Dakota my good friend (and beloved kindergarten teacher of all my children) and I used to pore over hat catalogs, dreaming of wearing the amazing hats so colorfully displayed on the pages. But alas, South Dakota congregations don't attract a lot of chapeau adorned worshipers, unless you count all the winter headgear, which I most assuredly do not.
No, what Mary and I dreamed of were hats with style and pizzazz, and no one did it better than the queen of respect herself, Aretha Franklin, when she wore this showstopper while singing My Country Tis of Thee at President Obama's 2009 inauguration ceremony.
In fact, Aretha's hat caused such a stir that a book of poems were eventually written and assembled into a book called
Think: Poems for Aretha Franklin's Inauguration Day Hat
. How many hats end up with their own book?! Here is poet Glenis Redmond's contribution to the book, titled
Symbol
:
The power of air and ancestors
flung History's door wide.
America becoming more Beautiful,
a painting resembling King's dream
multi-colored hues cutting the cold.
How the crowd seemed bewitched and amused
more by Aretha's hat, than the song.
How the hat held the eye.
a shape of wings perched and poised
God Bless Aretha and that Hat.
A few years ago our local historical society featured a stunning display titled Church hats from the Black Community, featuring a collection of hats owned by Miss Annie Mae, who must have had one heck of a closet! Moving from Mississippi to Milwaukee in the early 1930s, she worked as a beautician and with the money she made at her job, she bought new outfits—and hats. After her death, her daughter-in-law honored Miss Annie Mae's memory by putting her hat collection on display and letting women and girls try them on. The success of that event led to more formal exhibits at the Overture Center in Madison and the Milwaukee County Historical Society. After the exhibits came down, the hats were auctioned off so that other women could wear them, and the proceeds went to the group Women in Focus, which helps support the education of minority youth. (
source
)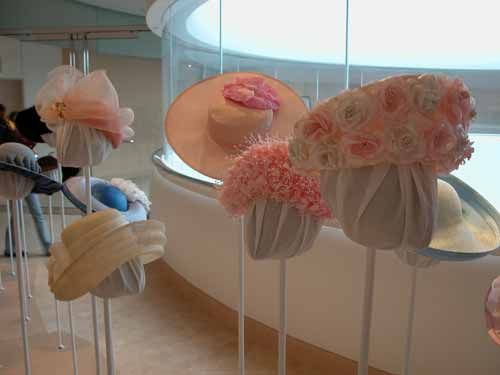 Miss Annie Mae's hats on display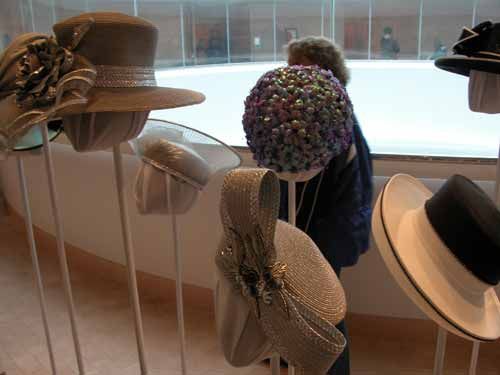 There were more than 70 hats in the display!
I am not alone in my love of hats. Photographer Michael Cunningham beautifully captures this Sunday tradition in his book
Crowns,
which chronicles this convergence of faith and fashion that keeps the Sabbath both holy and glamorous. And if you ever have the chance, you might want to check out the off-Broadway play adapted from this book,
Crowns: Portraits of Black Women in Church Hats
, which opened to rapturous reviews in Atlanta and New York and combines soul-stirring gospel song with movement, music and personal memories, and offers a spirited look at the faith and fashion statements made by church hats. The play offers this advice on wearing a hat: etiquette (no hat borrowing), style (you shouldn't look lost in it), and attitude (you have to have one in order to wear a hat well). But I really don't have to flip through catalogs or attend an exhibit to admire spunky church hats, as I am lucky enough to have beautiful women in my own family that know how to tilt that church hat and wear it with pride, like my sweet minister sister-in-law:
and my lovely mother-in-law:
With Easter right around the corner, I hope we all can either wear a hat with pride or enjoy seeing one on someone else. Let's develop a little 'hattitude'! Here is a second poem by Glenis Redmond because, well, because its fun and it made me smile! I hope you enjoy it too.
Hats
Sistahs have always been able to style in hats.

You know they got it going on.
Those women can wear hats from dust 'til dawn.

You've got to be bold and have snap to sport a hat.
You've got to have it and know where it is at.

You've got to stop and cock it to the side.
Check them out and continue with your stride.

Profile it. Style it.
Then let them wow it.

Tilt it, lean it, or wear it straight in place.
A well worn hat is a symbol of grace.

You have heard people say it. I have too.
"Oh, she can wear a hat.
She sho' 'nough knows what to do."

Oh, a hat can get those oohs and aahs.
If it is totally bad, it gets applause.

Some hats are so bad, they are just bad to the bone.
People stop and say, "that girl has got it going on."

Or say "You just go girl, you just go on, girl,
'cause with that hat you're the finest thang in the world."
HATS
HATS

HATS
Big ones, tall ones, small ones, fruity ones,
pointy ones, veiled ones, flowered ones
sporty ones,
polka-dot ones,
plain ones,
and kufis too!

Lean it,
cock it,
style it,
profile it,
tilt it,
tip it,
check it,
sport it.
HATS

HATS
HATS
Do you dare to wear?
How do you fare?
Do you want to be bad to the bone?
Then, get you a hat and get it going on!