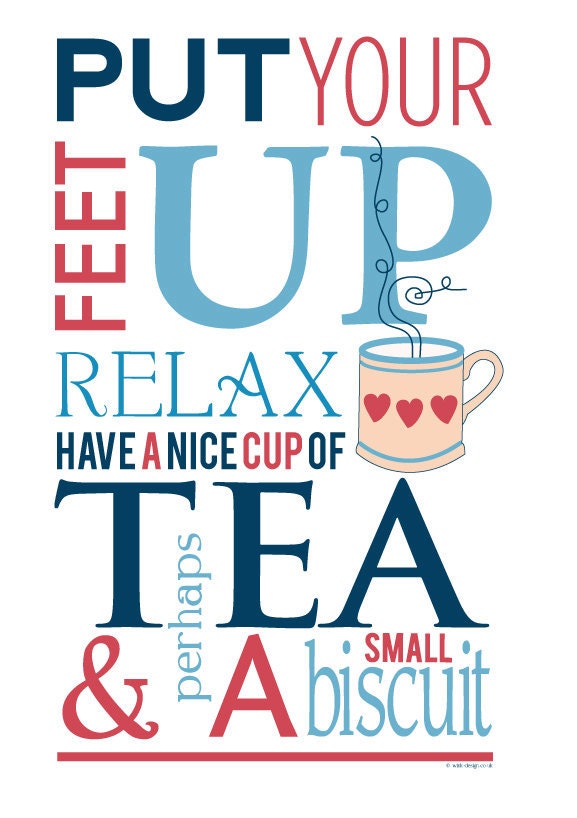 Oh my goodness, it's finally Saturday! I must admit, this has been a strange week--the first week in my entire life that I have had to work the days after Christmas! In my previous careers, as a teacher, a stay-home mom, and then a non-profit manager the week between Christmas and New Year's was always a vacation week, so I had plenty of time to relax by the fire and the tree after all the hoopla of getting ready for Christmas. But I started a new job this past July, and with no vacation days saved up yet....it was back to work the morning after Christmas, with the rest of my family still snuggled in their beds! I've been tired and slightly grumpy the last few days and am really looking forward to having time this weekend to recharge my batteries. This poster says it all, and I've already followed its advice...I'm on my third cup of tea already, although I've substituted a piece of pumpkin pie for the small biscuit.
I'm looking forward to spending time with my family this weekend--my daughter and her fiance' are coming to town, and my husband and I plan to see Les Miserables tomorrow. I've been looking forward to seeing it ever since the first movie trailers were screened! The music is just so stunning. Other than that, I plan to take it easy, maybe read one of my Christmas books and work on a little cross-stitch or quilting project. I suppose next week we'll need to start talking about new year resolutions...but that can wait until the weekend is over, right?!
What are your plans for the weekend? I'd love to hear from you!
If you like the poster shown above, you can visit Wink Designs at their Etsy shop at
http://www.etsy.com/shop/designedbywink