Great Spirit gave me special wings, calling me to soar above, He adorned my heart and gave me earth
......so I can simply love.
Great Spirit gave me friends and family, calling to my heart, He showered my life and showed me love,
......so I will never part.
Great Spirit gave me compassion and patience, calling me to be, He covered my eyes with loving kindness,
......so I can always see.
Yesterday I shared with you a special ornament on my tree that relates to all my favorite memories about ice skating. Today I am sharing an ornament I gave my husband in 1995, that has a family picture from one of our special places in South Dakota. You may recall I wrote about Sica Hollow and its Trail of the Spirits earlier this fall, and how it is a revered place for the Native Americans in that area of northeastern South Dakota. (If you would like to read my post about Sica Hollow, you can use this link
http://poetryandacupoftea.blogspot.com/2012_10_01_archive.html
) and scroll down to October 14.
Remembering Sica Hollow calls to mind a lovely Christmas song, the Huron Carol, which was written by a Jesuit missionary priest, Father Jean de Brebeuf, around 1641. The Huron built a small chapel of fir trees and bark in honor of the manger at Bethlehem. It's fun to remember that Christmas is celebrated in other cultures, and that not all nativity scenes are depicted the same. In the charming nativity scene below the animals at the manger were the fox, the buffalo and the bear.
1. 'Twas in the moon of winter-time
When all the birds had fled,
That mighty Gitchi Manitou
Sent angel choirs instead;
Before their light the stars grew dim,
And wandering hunter heard the hymn:
Refrain:
"Jesus your King is born, Jesus is born,
In excelsis gloria."
2. Within a lodge of broken bark
The tender Babe was found,
A ragged robe of rabbit skin
Enwrapp'd His beauty round;
But as the hunter braves drew nigh,
The angel song rang loud and high.
3. O children of the forest free,
O sons of Manitou,
The Holy Child of earth and heaven
Is born today for you.
Come kneel before the radiant Boy
Who brings you beauty, peace and joy.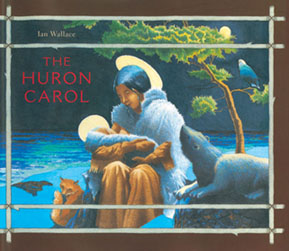 While I was looking online for a translation of the Huron Carol, I found a news article from last month that stated that for the first time ever, an American Indian had blessed the Christmas tree at the United States Capitol. An Elder from the Tuolmne Bank of the Me-wuk tribe blessed the tree shortly before it was harvested and loaded on a flatbed truck. According to an organizer of the Capitol Christmas Tree project, the blessing was done as the sun came over the mountain, and was 'an amazingly moving ceremony where they blessed the tree and the people on site and blessed a safe journey for the tree.' What a beautiful beginning for our national Christmas tree!
If you aren't familiar with the lovely strains of the Huron Carol, you can find a beautiful arrangement by the Chris Norman Ensemble (an amazingly talented Canadian group) on their cd In the Fields of Frost and Snow. Here's a short clip from that cd
http://www.last.fm/music/Chris+Norman+Ensemble/_/Huron+Carol