Warning...longer than usual blog today, but hopefully the ending is worth the wait!!
After my conference ended in Providence, my husband joined me for a weekend of fun that included our first visit to Martha's Vineyard. Although there are high speed ferries near Providence, we opted to rent a car and enjoy the drive over to Cape Cod, where we left the car and took a steamship to the island. It was such a pretty drive, and the forty-five minute ferry ride was smooth as silk.
Sailboat near the ferry
Coming in to harbor at Vineyard Haven
Since it was our first visit, and we didn't have our own transportation, we opted for a three hour bus tour of the island, and our tour guide Chad didn't disappoint. We met two lovely ladies from Australia on their first visit to the U.S. and had a lovely time. The only disappointing part of any tour is that your time is not your own, and so many things that I would have loved to capture with my camera were just a blur outside the bus window. But we did get a nice history of the island and a small feel for the island culture and all in all, it was a lovely day...with a big surprise finale!
Would you like to join me for the tour? First off, it's movie time! What famous movie was filmed here in the 70's? Here's a little hint: Duuun dun duuun dun dun dun dun dun dun dun BOM BOM dun dun dun dun dun dun doo dedoo doo dedoo dede doo dede doo dededoo. And with the theme song of Jaws now firmly in your mind, here are a few places used on set:
Beach with that terrifying opening scene of the girl being dragged under by the shark...nightmare inducing!
There are six villages on the island, and we traveled through each of them on the tour. First up, Oak Bluffs with its iconic "gingerbread" cottages. These cottages were built to replace tents during Methodist revival meetings In the nineteenth century Methodists gathered each summer for religious "camp meetings" held under large tents and in the open air. As families returned year after year, tents pitched on the ground gave way to tents pitched on wooden platforms and eventually to small wooden cottages. The cottages grew more elaborate over time, and are now utterly charming (and expensive!)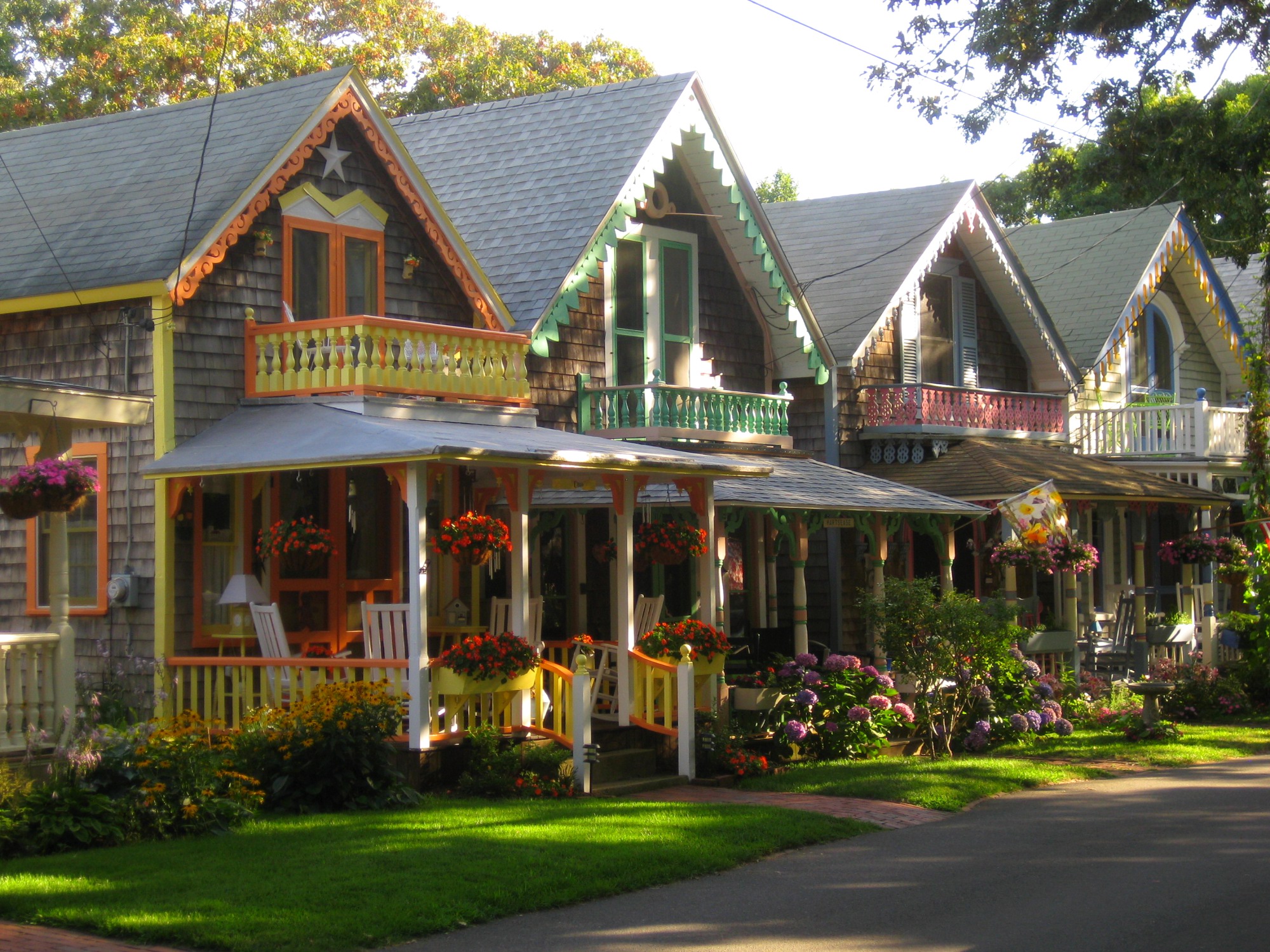 I wish we would have had more time to get off the bus and really explore, but we did get to roam a little near the national landmark of the Gay Head red clay cliffs near Aquinnah, home of the Wampanoag Indians. We discovered the historic 1854 lighthouse had just been moved back 135 feet the week before, due to fears of erosion on the cliff. Before its move, which cost two million dollars, it was only 46 feet from the cliff.
is home to the Wampanoag Native American Tribe
The views were beautiful, looking towards the cliffs...
I wish I had better luck in capturing the lovely flowers--the rhododendron bushes were
huge
and little wild roses were blooming everywhere--they only bloom for a month so we were lucky to see them at all, but pictures taken inside a moving bus tend to be a bit blurry...
After our bus tour we had an hour to kill before the next ferry back to Cape Cod, so we happily wandered around Vineyard Haven, where English settlement of the area dates back to the mid 1600s. Little reminders of its seafaring history are everywhere:
And of course, charming little shops dot the main street, giving tourists a chance to spend some more money before heading home! I enjoyed the floral display in front of one of the shops, as pansies are one of my mother's favorite flowers.
I also ducked into this shop to browse...and ended up with a little story to tell!
In the shop, I discovered a display of children's books, written by Carly Simon. Carly has always been one of my very favorite artists--I love her spunky attitude, her ferocious love for her children and family, and, of course, her beautiful songs. I play one of her albums almost every night while cooking dinner, and belt out
You're So Vain
or
Anticipation
while chopping vegetables or stirring the pot. I even used
You are the Love of my Life
on my son's wedding video that I made...every time I hear "
from the moment I first met you, the second that you were born
" I tear up!
So of course I had to buy her book,
Midnight Farm
, for my little Lily, and stood in line to purchase it. The woman ahead of me was talking something over with the sales manager, so as I waited I chatted with the woman behind me who was also holding one of the books. We agreed we both loved Carly Simon and were delighted to have this small souvenir to take home with us.
her
store--check the name of it!) to personally sign more of the books, so guess who now has an autographed book of Midnight Farm? I think Lily will have to read it at my place...and wear white gloves when she touches it!!
And delightfully, she was as charming and gracious as I always imagined she was. I didn't ask for a picture as I absolutely didn't want to be one of
those
fans who intrude on her space, and I was thrilled enough with her autograph. But my husband did sneak a picture of her with the manager from the doorway...
So thank you for hanging out on Martha's Vineyard with me all the way to the end...it was quite an exciting adventure for me! I'll leave you with one of Carly's songs,
Never Been Gone
, that she wrote about the island...